I was surfing the web the other day and ran across this amplifier company. We just happen to share a common name but have no affiliation. They are called Alpha & Omega Amplifiers. I really like to find and share other small company's that are making high quality products for the wonderful world of guitars. They make three amps. All tube and all based on classic proven vintage amp circuits. I'm planing on ordering one soon. I really like the one based on the Fender Bassman 4x10. Its more expensive than a Fender but I'll take small company hand made any day over large factory produced. Don't get me wrong, I do like Fender amps and their Blues DeVille is one of my favorites but I just like supporting small specialty company's. I have yet to hear one but I hope to soon.
Here are some pics and Stats:

The David: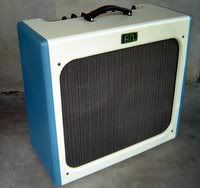 30 watts output power

one Alnico 12" and one Alnico 10" speakers

all tube design, point-to-point wired

2 x 6L6 output, near Class A

5AR4 tube rectifier, 12AX7 preamp tubes

single channel, Normal and High Gain inputs

volume, treble, mid, bass, reverb controls

true spring reverb

birch plywood cabinet with covering

22" x 20" x 10"

40 lb
Here is a quote from their website:
"At A&O, we make our own cabinets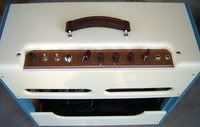 constructed with 1/4" finger joints for strength. They are then covered with durable woven materials that look good and travel well. The speaker baffles are cut from sturdy birch-plywood instead of particle board (which has a tendency to crumble with use). We finish them off with attractive leather handles and an extra long power cable for convenience. After final assemly, each amp is tested, biased, and burned in. You Alpha & Omega is ready to go...right from the get-go."
The Big Al: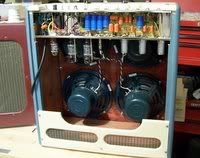 40 watts output power
four Alnico 10" speakers
all tube design, point-to-point wired
2 x 6L6 output
5AR4 tube rectifier, 12AX7 preamp tubes
four inputs, two channels (Normal and Bright)
volume (x2), treble, mid, bass, presence controls
birch plywood cabinet with covering
22.5" x 23.25" x 11.5"
50 lbs
The Babe: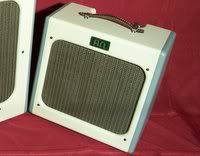 8 watts output power
one Alnico 10" speakers
all tube design, point-to-point wired
one 6L6 output
5Y3 tube rectifier, 12AX7 preamp tube
single input with on/off volume control
birch plywood cabinet with covering
15.5" x 14.5" x 8.75"
21 lb





You can view their website at http://alphaomegaamps.com/

Again, we are not affiliated. Just a coincidence we share a common name.




Please visit our retail website at http://www.alphaomegafx.com/
for quality handbuilt boutique guitar effects.
Thanks again,
Dana @ Alpha Omega Guitar Effects